Events Calendar
All events are subject to change based on the public health situation at the time of each event. Please check https://bringbackthepack.unm.edu for the latest UNM health regulations.
You are

WELCOME

to

ALL

events.
All of our events are  FREE. 
WINa Gift Certificate. GAINexperience. BUILDyour skill set. ENHANCE your resume.  
Please reach out to Yadéeh Sawyer at yadeeh@unm.edu for an accomodation needs for any of our events.
See the bottom of the page for an embedded Outlook Calendar of events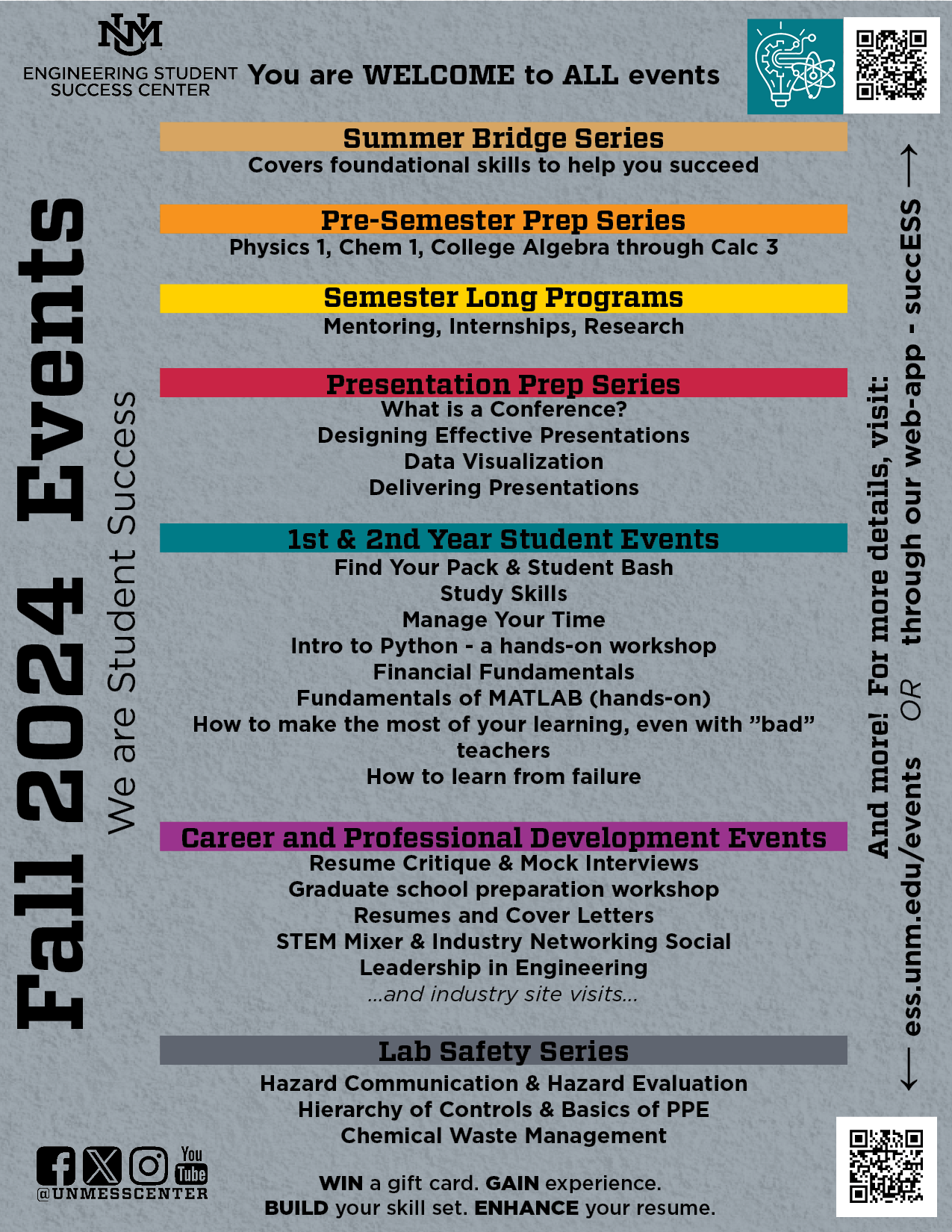 Stay informed, use our  engineering your succ ESS app!
Click HERE for additional information.
Win a Gift Certificate!
School of Engineering (SoE) and Computing Students - each semester we award a GIFT CERTIFICATE to the UNM Bookstore for the top 5 students who attend the most ESS Center events (earn a bonus point by completing the associated feedback form). This could be YOU. And, add those events to your resume as co-curricular experiences so your future employer knows you took full advantage of your undergraduate experience. Don't wait, join us at our events!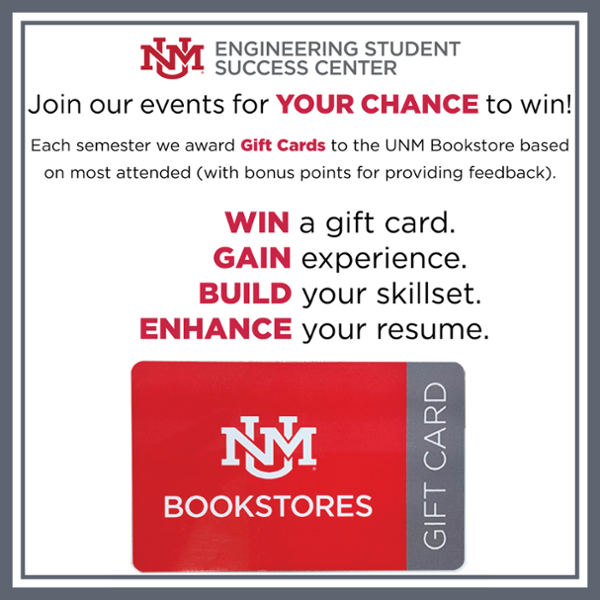 What we offer
ESS Center collaborates with various offices and departments across UNM, as well as community partners in the STEM industry to provide workshops, events, or skills that help build engineering student self-efficacy, preparedness, and success. We believe in supporting student success and retention through a holistic approach to their educational experience. The goal is to better assist students in preparation for their future careers.
ESS Center students and staff members also participate in a variety of annual career conferences, listed below under "Other Events." ESS also provides support to students for travel to these conferences. Find out more here.
Event Feedback:
We want to make sure our events and workshops are as beneficial as possible and we are always seeking to improve. Your constructive feedback is greatly appreciated. Fill out our survey/evaluation HERE. Thank you! 
Semester Long Programs:
Don't miss out on our great Semester Long Programs: Mentoring. Research. Internships.
Event List 
(NOT RSVP, that is at each event below.) Sign in to an event HERE.
And, check out what the School of Engineering is hosting HERE (including their Engineering in Action series).
See the bottom of the page for an embedded Outlook Calendar of events
You are WELCOME to ALL events.
ESS Center/SoE Events
If you are interested in a full version of the presentation with the script (as available), please reach email ess@unm.edu with the request.
NM Space Grant - Scholarships and Fellowships - Friday, November 22, 2019. Time 2 - 3 pm.

Basic Excel

How to Get Into a Research Lab as an Undergraduate 

(

PDF; YouTube video

)

Pre-Semester Prep workshops

History and Careers within Engineering & Computing

- Come learn about the significant points in history and what careers are out there for you through a Showcase of research in each field. ( Presenter lists are updated as they are confirmed.)

Lab safety matters!

- This 3 part series prepares you for lab work, or make you a more valuable lab mate. Provided by UNM's Environmental Health & Safety department. 
Use our succESS app to RSVP and receive 1 week and day before reminders, but also check out our Outlook Calendar: