Students Organizations & Conference Travel
ESS works closely with several UNM-chartered student organizations. Involvement in a student organization offers students the opportunity to develop strong leadership skills, travel to career conferences, participate in community outreach programs, network with industry leaders, and qualify for private industry scholarships & awards.
Students are encouraged to participate in STEM-related, UNM-chartered student organizations throughout their academic program in order to gain valuable leadership & networking skills to help them secure a summer internship or full-time career upon graduation.
Active participation in a student organization offers students the chance to travel to various career conferences, compete for additional outside scholarships, get involved in community service work and meet other students and leaders from around the world.
The School of Engineering Engineering Council consists of a Student Council Leader (appointed by the SoE Dean) and the SoE student organization presidents (or their delegates). The purpose of this council is to connect the student leadership for a more cohesive and collaborative approach to student involvement. The council meets a few times a semester to meet each other, build collaborations, and coordinate events within the student orgs and with the SoE and ESS. The Student Council Leader serves a join appointment as the council coordinator and the ASUNM Join Council representative for Engineering and advocates on behalf of the student groups. The current Student Leader is Haley Chavez (hchavez2@unm.edu), a senior in Civil Engineering.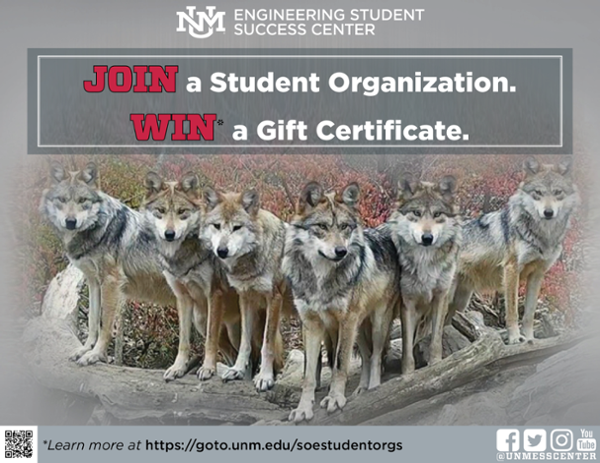 JOIN a Student Organization. WIN* a Gift Certificate.
For each student who is an ACTIVE member of an SoE related student org (those listed below), they get their name entered ONCE into a special "Student Organization Participation" drawing for a Gift Certificate to the UNM Bookstore.

To qualify, students must attend/participate in at least 75% of the Org events/meetings.
You must also attend at least one ESS event for the entry to be valid, but that means you are eligible for this drawing AND for our semesterly award for participation!  
The list of names comes from the Org leader, not self reported.
The student MUST be an SoE student (pre or full major).

For the student organization's students to be eligible, the organization must:

Promote our ESS sponsored events

Remember, we are happy to help promote your events and meetings, too! Just email the info to Yadéeh at least 5 days ahead of time.

Include Yadéeh Sawyer, the ESS retention specialist (yadeeh@unm.edu) in communications with your organization (as if she was an active student in the organization)
Coordinate with ESS staff when scheduling events to avoid duplicate content or competing schedules
School of Engineering student organizations: 
Society of Asian Scientists and Engineers (SASE)
Chemical and Biological Engineering
Nuclear Engineering 
Mechanical Engineering
Civil, Construction & Environmental Engineering
Electrical and Computer Engineering 
Computer Science
Association of Computers and Machinery
Other UNM STEM student organizations: 
Visit the Student Activities Center to see an entire listing of UNM chartered student organizations.