Meet our Tutors
---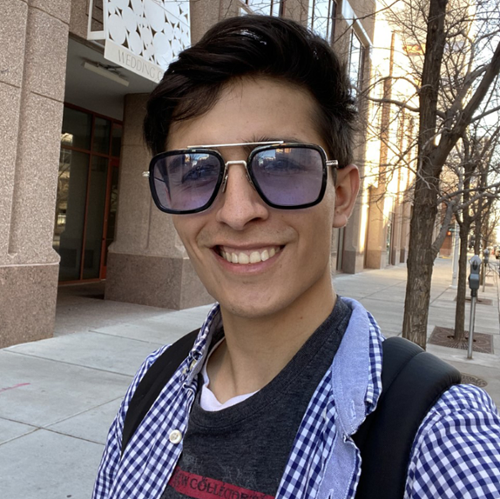 Adan
is a junior undergraduate student in the School of Engineering working towards his BS in Mechanical Engineering.
He has a formal background in Visual Arts in which he uses his skills to propel his interests further into Material Sciences and Complex Mechanical Functions. He has experience over a variety of modeling software and CAD based programs and can often be found working with the in-house 3D printers to bring these elements together. He is inspired by the technological developments in Aeronautics and Aerospace engineering and hopes to inspire others to find their passions within the STEM community to start building a better future today. 
P.S. It is rumored that he has been seen working on some kind of red and blue suit matching the description of a Spider- themed vigilante spotted on campus, however his involvement in the matter remains speculative.
---
---
Arturo
is majoring in Mechanical Engineering. 
He will be attending graduate school at UNM with a focus on satellites and space technology. He would like to pursue a career in Albuquerque relating both to the aerospace industry and renewable energy sector. His hobbies include painting, sketching, hiking, and enjoys teaching his dog new tricks. He is thrilled to be here and looks forward to helping everyone make it through another semester.
---
Levi
is majoring in Mechanical Engineering.
He plans on taking his major and applying it to one of his hobbies for a career. He is currently in the works of making relationships with Burton, the snowboard company, and will hopefully get an internship with them. He is also leaving his options open to the aerospace startup world and would enjoy working for a company that is innovating parts for NASA or other space organizations. In his free time he snowboards, skates and when he's back in his hometown he surfs. He's looking forward to this semester and helping you guys with your classes.
---
Luis
is majoring in Mechanical Engineering.
He plans to work in robotics or the aerospace industry. In his free time he likes to listen to music, play video games and work out.
---
Manjil
is a senior student working towards my BS in Computer Science with a minor in Mathematics.
With his degree, he wants to work in the field of AI and Machine Learning. He believes that Artificial Intelligence will be the next big thing after the internet. He loves working out at the gym, watching documentaries, and racquet sports. 
---