Student Research
The goal of the program is to expose and engage our 1st and 2nd year students in engineering or computer science to keep them focused and motivated to stick around beyond their 2nd year. The literature suggests this is a critical component to retention.
SEMESTERLY DEADLINES: February 5 and September 5.
Matches will be announced by the following Wednesday.
Do you have an opportunity for student research engagement?

Lead Researchers please complete THIS form. Students, see below.
(Spring/Fall matches, but engagement can continue into the summer, as best fits the match. These opportunities are highly dependent on UNM based research opportunities, supplemented by the occasional community partner opportunity position. Looking for 1-on-1 engagement opportunities with UNM based research opportunities (with faculty, post-docs, or graduate students) open to our Engineering and Computing Students.
Priority given to Freshmen and Sophomores in the School of Engineering, but open to all SoE students. There are no citizenship or GPA requirements, but all interested students are required to attend a 1-hour orientation session. We act as the conduit between the student and the research possibility. Based on the needs of both the research opportunity and the student, these vary from volunteer (most common), volunteer with the potential of being paid, or paid (least common), with the number of hours are flexible.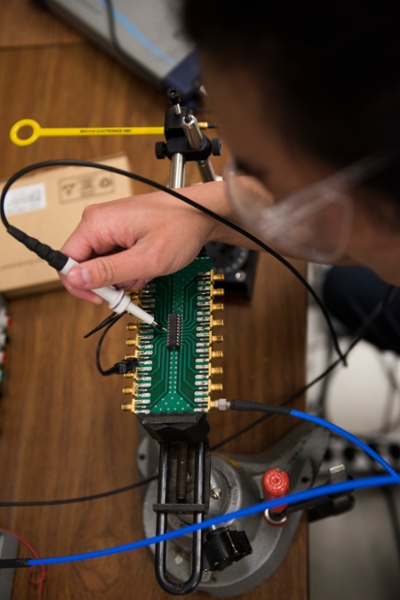 You MUST be a UNM School of Engineering undergraduate student (pre - and full- majors).
Priority is given to Freshmen and Sophomore students, but Juniors and Seniors are still encouraged to apply.
No minimum GPA requirement. The more important factor is student motivation.
No citizenship requirement. 
Engineering Student Success Center (Yadéeh Sawyer, yadeeh@unm.edu) will act as the facilitator and support for the pair once made, but the details of the relationship are between the matched pair.
*Note: for volunteer, on campus student research opportunities, ESS Center will cove the cost of Excess Accident Medical Coverage Insurance for these students.*
PROGRAM EXPECTATIONS
Duration of lab assignments is approximately 1 semester, but may continue longer as agreed upon by the match.
Research mentors (Community partners, faculty, graduate student, post-docs, etc) are expected to provided a patient and supportive learning environment with hands-on experience for the student researcher.
Student researchers are expected to maintain their commitment for the semester (or as otherwise agreed upon). If this expectation is not met, students may be asked to leave the program.
The Engineering Student Success Center provides support throughout the program, including occasional check-in emails and sponsored activities. Researchers are notified of sponsored activities via email.
**Students, please note that most of the opportunities are volunteer positions**
ABOUT MATCHING
Matches are based on availability of researchers/positions and interested students. We try our best to honor your requests and preferences, but we cannot guarantee a match.
MATCHES ARE NOT A GUARANTEED POSITION. ESS Center makes the initial pairing recommendation. It is up to the Researcher to make the final decision on if the student is a good fit for both the project and the lab.
Students: Must complete both this interest form AND a program orientation session (listed on the interest form). Students will not be introduced to a research mentor until both items are completed.
Various orientation dates are available. If you cannot attend one of the scheduled orientation sessions, but would still like to join the program, contact Yadéeh Sawyer at yadeeh@unm.edu. To speed up scheduling your orientation session, please provide 2-3 times, Monday-Friday, between 9 AM and 5 PM, that work for your schedule in this email.
QUESTIONS?
Please direct questions to Yadéeh Sawyer at yadeeh@unm.edu or 505-277-9151.
This program currently only supports students interested in Engineering or Computer Science research experience.
DOCUMENTS FOR STUDENT RESEARCHERS
Didn't get matched this semester?