Research Laboratory Internships for High School Students
Who: Rising 10th graders to graduating seniors
When: Summer Internships range from 5 to 8 weeks depending on the program. Some internships may not be full time.
Pay: Stipends or hourly (rates set by UNM Youth Summer Hire Program)
The School of Engineering offers two paid summer internships at UNM through the following grant:
CISTAR Engineering Research Center
Students work on important engineering problems under the guidance of undergraduates, graduate students, post docs and/or faculty. They participate in group meetings and are invited to attend engineering seminars and outreach events.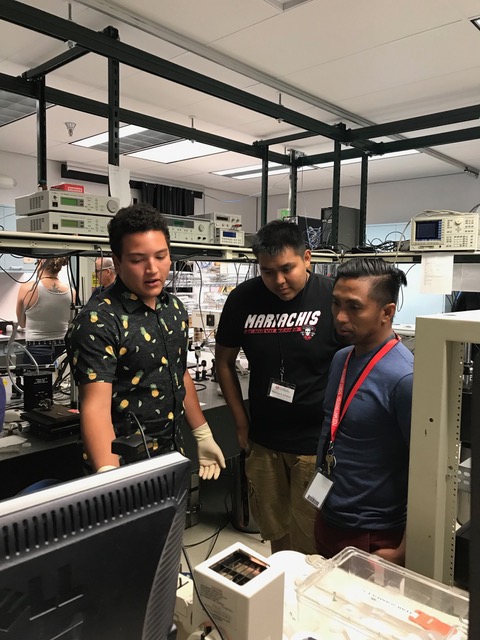 Other Internship Opportunities
IMPORTANT 2021 INFORMATION: UNM will be a site for eight REAP lab internships, each paying a $3,000 stipend. The deadline for 2021 is March 31, 2021 (but position will be opened until filled) . Keeping checking the Army Educational Outreach Program's Research & Engineering Apprenticeship Program (REAP) website until you see New Mexico listed as a site.
Please note: Most activities may be held virtually due to COVID-19. Other paid and volunteer research internship opportunities may be available with individual faculty members in the school of engineering as well as through other departments, colleges and schools. View additional information on how to find a research mentor. Students are welcome to approach faculty, departments and schools with well-researched and thoughtful emails exploring possible research experiences. It is recommended that students send resumes listing highest math, science and programming classes taken, significant research and programming skills, and science/engineering projects, clubs and experiences undertaken. Students are reminded to please check their email inboxes and spam folders regularly. University business is NOT conducted via text.
Other programs:
Information for Faculty and Administrators
Even if an intern is taking an unpaid position in your lab it is advisable for you to follow the guidelines outlined under the Non-UNM Student Hire Programs.
This means you must do the following:
Make sure your lab and the intern's duties comply with child labor laws. See the Non-UNM Student Hire Programs page for details or NM Workforce Solutions AND this Acknowledgement of Certification of Minors Form.
Designate a mentor and obtain a background check for the mentor. Background Checks are in effect for 3 years. OGS conducts background checks for graduate students. For faculty and staff: departments should complete the Background Check Form and submit the request via email to bcrequests@unm.edubcrequests@unm.edu. Indicate that the check is for the supervision of minors.
Mentors must take an online class Minors on Campus either through Online Learning (EOD 486 Minors on Campus). Contact the Compliance Office if the mentor does not have access to Online Learning.
Obtain the signed copies of the forms below from the minor's parents and return them to Nada Hack at esscareers@unm.edu.
Optional: You may ask your research intern to read these guidelines and return them to you. Feel free to modify these according to your lab's protocols.